The Quadrille Franco-American part 4 can be played as a traditional dance tune or in the slow jig feel. This melody is played out of the key of D, and it's a good, basic tune to start on if you would like to get into playing Québécois fiddle. André Brunet walks us through his basic and advanced arrangement of the tune in this lesson module…Check out the tutorial videos below!
Also, the below tutorials from André might be helpful as you learn Québécois fiddle:
---

Click HERE to download the performance audio MP3 file to your computer.
Once you transfer the file to your mobile device, you can hear the tune whenever you wish! Listening to the audio performance is a great way to prepare to learn this song…
---
Sheet Music for the Basic Melody: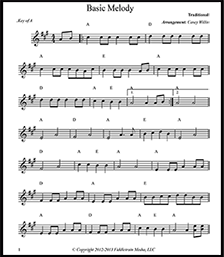 Can't view the sheet music? Get the latest Adobe Acrobat Reader:


Also, don't forget to check out the below tutorials from André which will help you play Québécois fiddle like a pro: