 (If your system has trouble playing this video, scroll to the bottom of the page for our Standard Video Player)

Trip to Walden Pond is an original Scottish/American reel composed by Fiddlevideo instructor Hanneke Cassel. The tune is the title track from Hanneke's 2017 album which can be purchased here:
Trip to Waldon Pond
. This is a great tune to tackle if you would like to work on your fiddling in the key of B major. Hanneke Cassel walks us through her basic and advanced arrangement of the tune in this lesson module…Check out the tutorial videos below!
Feel free to check out the Scottish Gracenote Tutorials as you work on this tune.
---

Click HERE to download the performance audio MP3 file to your computer. Once you transfer the file to your mobile device, you can hear the tune whenever you wish! Listening to the audio performance is a great way to prepare to learn this song…
---
Sheet Music for the Basic Melody: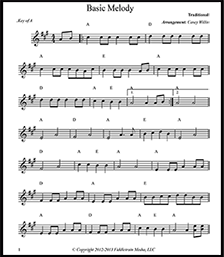 Can't view the sheet music? Get the latest Adobe Acrobat Reader:


Standard Video Player: