 (If your system has trouble playing this video, scroll to the bottom of the page for our Standard Video Player)

Kitty's Wedding Hornpipe is a two part Trad Irish fiddle tune played in the key of D with each part played twice. This is a great tune to add to your repertoire if you're starting out in the Trad Irish fiddling genera. You can definitely add a ton of cuts, flicks and double stops to create a flashier version of the melody as well. Niall Murphy walks us through his basic and advanced versions of the melody in this lesson.
Feel free to check out the Irish Fiddling Technique Tutorials as you work on this tune.
---

Click HERE to download the performance audio MP3 file to your computer. Once you transfer the file to your mobile device, you can hear the tune whenever you wish! Listening to the audio performance is a great way to prepare to learn this tune…
---
Sheet Music for the Basic Melody: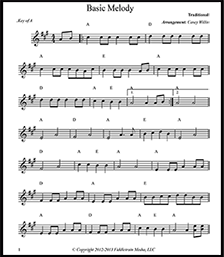 Can't view the sheet music? Get the latest Adobe Acrobat Reader:


Standard Video Player: